UPDATED FOR 2023
2021 was the year of a lot of things, and undoubtedly Japanese promo cards were one of them. Once a niche item only of interest to the more enthusiastic collector or Japanese vending machine, user promo cards finally have gotten a place in the spotlights. Though the market is still immature and many opportunities are yet to be had. 
In this article, I am taking a closer look at some of the best Japanese promo cards out there. I am looking at long term potential, supply, how easy they are to get and get rid off and how much they would set you back. I have an online pokemon store card cardspot.be, where we deal with Japanese cards daily. So we know what to look out for!

Why should you invest in Japanese promo cards?
Supply issues
The main reason is its limited supply. Japanese promo cards are only given on special occasions or events, and only in Japan. For example, the Kanazawa Pikachu was only available during the opening period of the new Pokémon Center in Kanazawa, and could only be obtained by people visiting the Japanese Pokémon centers. Another example is the Munch ´scream´ Pokémon set. Only one card per visitor was given to visitors of the Tokyo Metropolitan Museum for a very limited period of time.
Japanese promo card art
The art is oftentimes stunning and unique. If you are following Creature College on Instagram you probably are quite a big fan of art. Japanese promo cards are a level above their English counterparts. Due to their unique art, they have a lot of extra collector value. Where the art between the Japanese and English card is almost always identical, there is no equivalent for the Japanese promo card.
Market barriers
There is also a barrier of entry into the market. You can´t walk into your local card store or get them on Amazon right away. They are also not available in any other major retailer around. As mentioned you have to go to specific events in japan or do qualifying purchases in the Japanese Pokémon center or stores to get one. Not being able to get them in the closest Walmart but only from a country thousands of miles away sets up considerable transaction costs and risks.
Packages get lost in the mail, cards get damaged, sellers can scam you, sellers sell you their non-mint cards, shitty packaging, your currency depreciates, and so on. Then you have our good friend the state, asking for import taxes, duties, and whatever else they can grab their hands on. So, taking all this into account, here are five cards I'd recommend you put your money in for either a quick profitable flip or holding the position for multiple years.
I have provided affiliate links to eBay, as they are the best place to buy them with the most buyer protection, sorted by the cheapest cards. At this moment I am testing eBay sellers myself to see which send 1. mint cards 2. have good prices 3. fast shipping 4. good packaging. To get my full report subscribe to the newsletter.
Newsletter subscribers are made aware of good deals before the average reader of the blog, giving them a prime opportunity to buy in a position at a good price. Subscribe here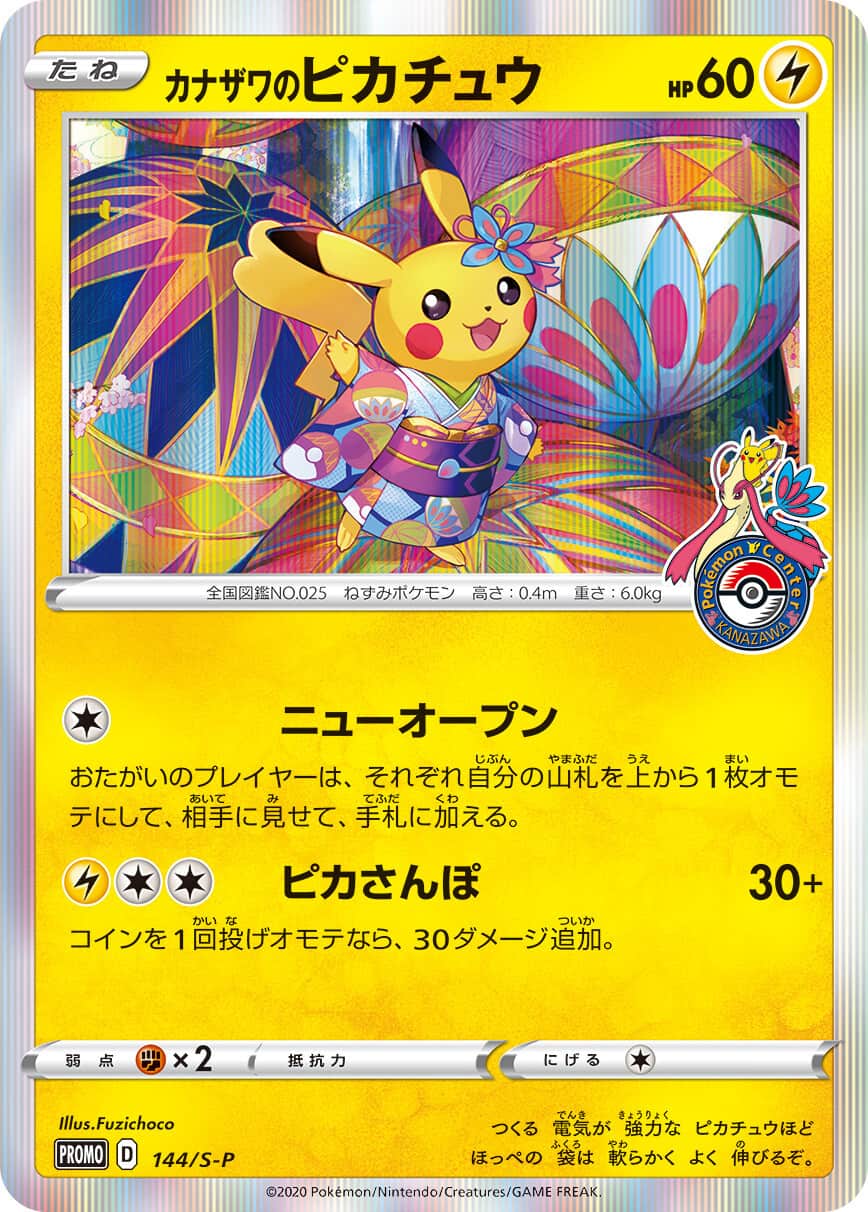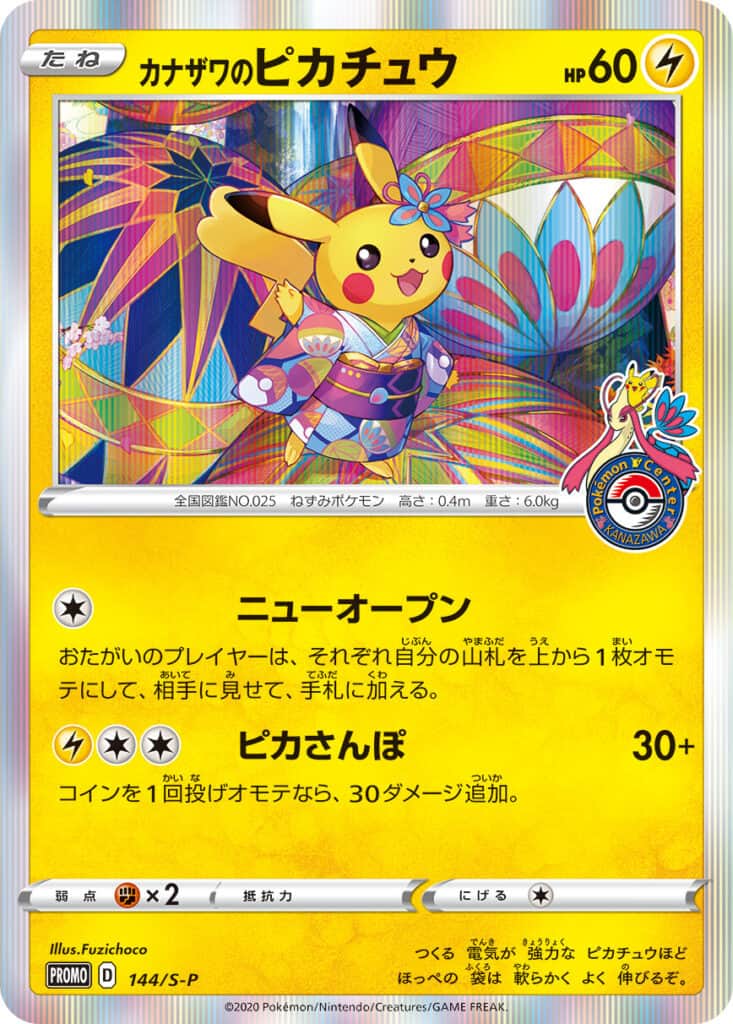 Number one on this list has to be Kanazawa´s Pikachu. There are actually two versions of this card. The cheaper V.1 card and the more expensive premium V2 card, a mirror holo foil 147/S-P. Both of these cards are a solid investment that I am very bullish on. For beginners who are beginning with their first moves on the market, you can not go wrong with the 144/S-P card. The card starts at about 30 dollars including shipping from Japan and sells quite easily for 35-40 dollars in the states and 45 in the EU.
I do see this card going to over $60 dollar in the near future judging from the price increase in the last few months. The card is visually one of the best made this year, and probably in the decade in my opinion, raising its value. Moreover, it has a Pikachu on it. Just like the orange lizard I have never pulled from a pack, Charizard, those only seem to go up in value.
The 147/S-P is another solid investment and likely even better than the 144/S-P. If you have the capital and steady hands to hold it for a decade you will most likely make a handsome return on the card if you decide to sell. At this moment the card is trading for around $180. The card is almost destined to go over the 300 mark in the coming years due to its rarity and attractive art. If you are lucky and get a card you can have graded for a 9 or a 10 you will easily get four figures for it.
Both of the cards were released on 20 November 2020 to celebrate the opening of a pokemon center in Kanazawa. The 144/S-P was given for free, the 147/S-P was sold in a commemorative box, which also is a very solid investment at $400 if you can resist the urge to keep it sealed.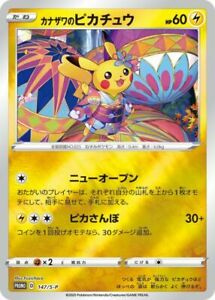 The Poncho Eevee promos have 8 different cards, and all eight are considered a buy and hold in my book. If you have the money and are able to pick up all 8 at a reasonable price, it would be more than worth it to buy, hold, and sell them as a set.

The card depicts Eevee depicted in different ponchos based on his evolutions. Eevee is a Pokémon that is popular and keeps growing in popularity it seems. Promo´s 137/SM-P to 144/SM-P were released in October 2017, so the card has matured in price a bit more than the Kanazawa Pikachu. However, at its current prices and supply in Europe and the US, it is a good card to flip for a higher price or to hold a couple of years more.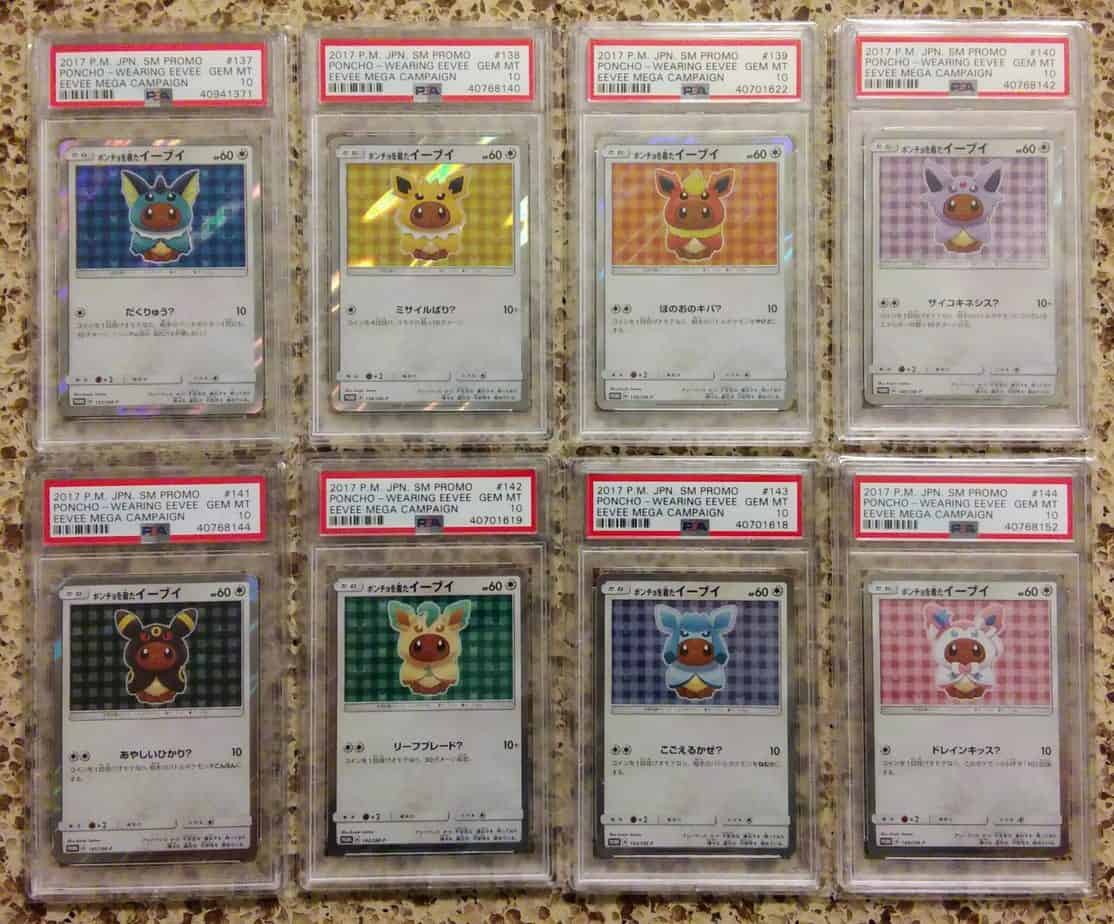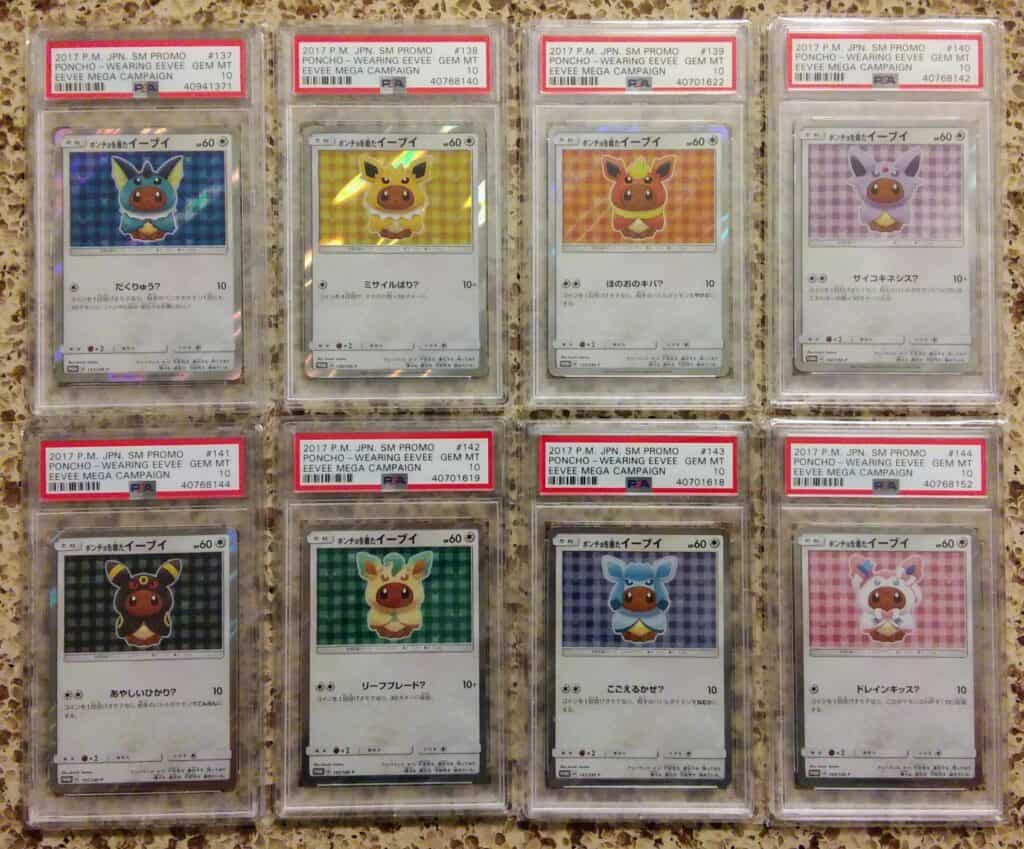 Pikachu´s are almost always a good investment. This 2015 card is no exception. It was given out to people spending 1000 Yen or around 9 dollars in all participating Pokémon centers in Japan. The poncho Pikachu card has two versions. These Japanese promo cards have had quite a large supply but still sell for around 65$ in a good condition.
The card is a great card to flip as it appeals to a large audience due to its cuteness. In both Europe and the US with some effort finding the right buyers you can easily make 20 dollars per card if you decide to sell right away. If you hold the card, it will likely go up in value beyond that if kept in good condition.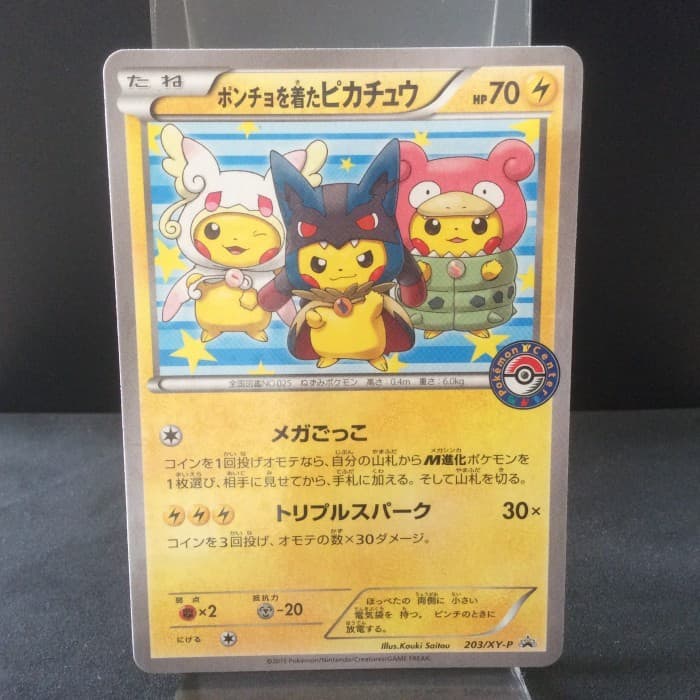 This is a card I wish I bought months ago, and it reminds me of the golden rule of Pokémon investing. The best moment to buy a card was at its release, the second-best time is now. This Japanese Promo Card is both art and a Pokémon card. Based on the famous painting the ´scream´ from Norwegian painter Edvard Munch, it is a card that transcends the Pokémon collector sphere.
Much like Mario Pikachu´s this raises their value considerably. Despite the ´Munch´ fan base being quite a bit smaller than Mario´s it still is a valuable asset for the set due to the recognizability of the art, it alludes to.

Buying the whole set won't be cheap. Coming in at 2000 dollars this is one for those who have enough capital to be able to hold larger positions for years. They will likely be handsomely rewarded within the decade as this card keeps going up in value. For those with a smaller budget, the Psyduck and Eevee versions of the card both make very solid buys.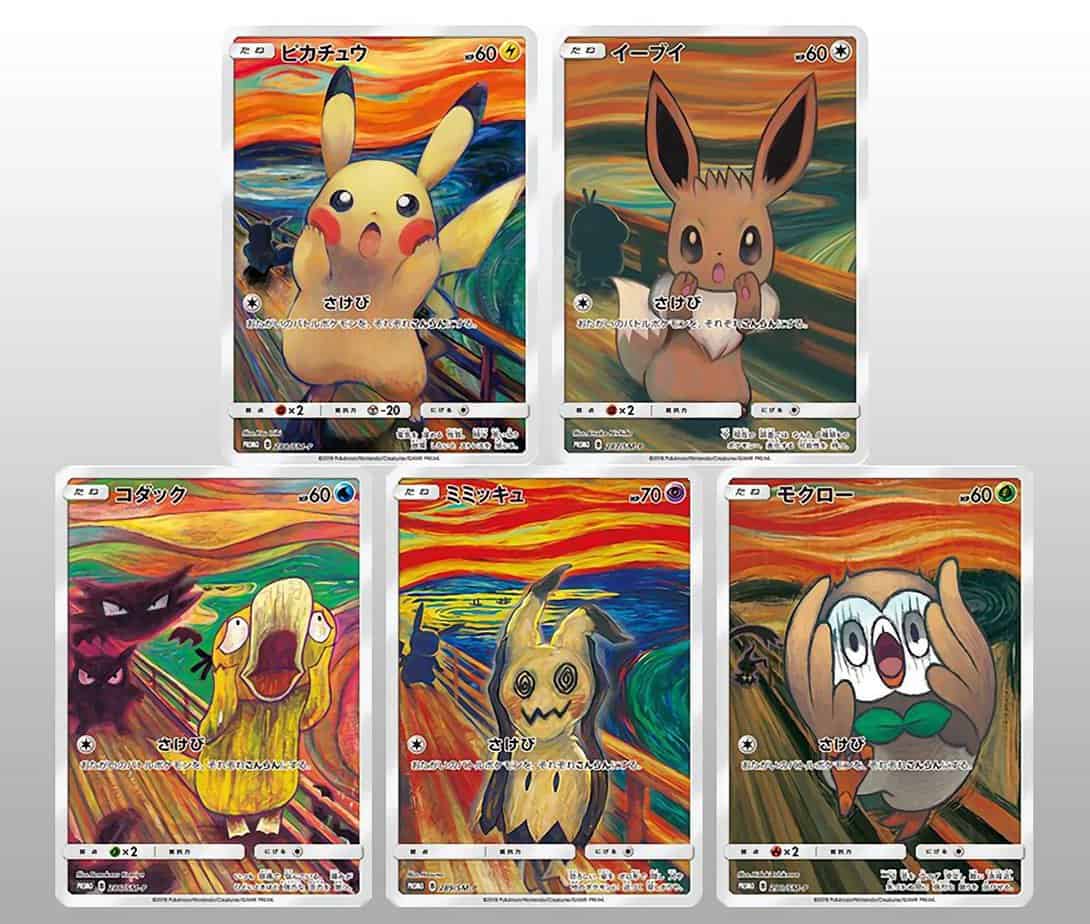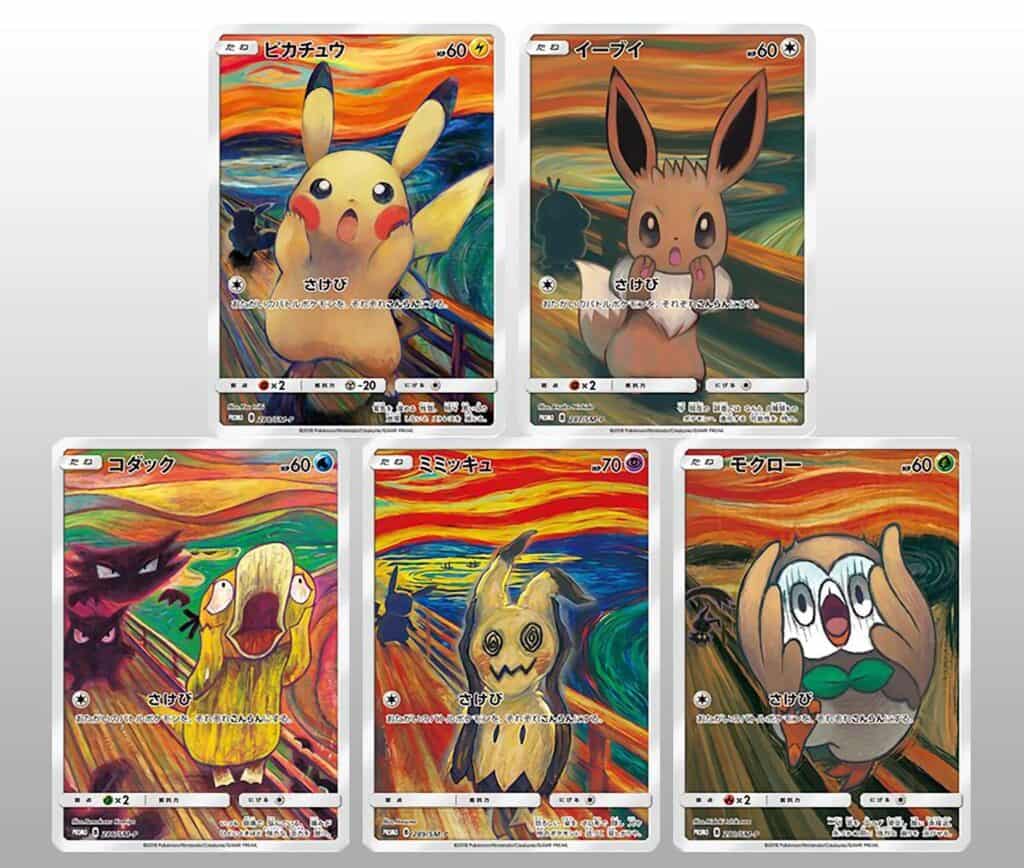 I have a hate love relationship with this card. I had bought a fairly large position in this card hoping to flip it at two times the price. Almost right after purchasing the Pokémon Company announced yet another reprint of the card due to its success. As is almost always the case with the Zards, they seem to hold their baseline quite strong. The card is still considered a buy.
It is by far the cheapest card on this list to pick up at around 15 dollars. If you are on a smaller budget, this is the card to buy to start flipping. I do not believe this card will go above 40 dollars for any time soon due to the supply, but you should never underestimate the fan favorite. No matter how many times Charizard versions are released they sell and are often sold at a premium. No doubt in five years this card will be worth more than the purchasing price, making it a must-buy in my book.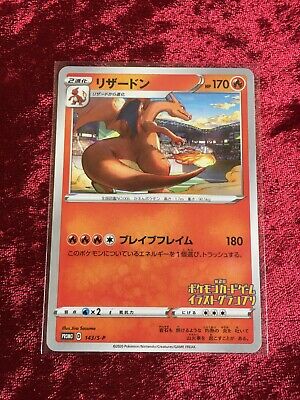 There are of course a lot more cards (and postcards) worth investing in in this market. If you want to receive valuable tips on must-buys and must sells, subscribe to our newsletter.