Hi, game lovers! Today's blog is for all the otaku who love video games. I have brought a list of the best anime about video game development that will highlight the development aspects of games.
Those of you who like watching the struggles of people and how they overcome different hurdles with courage and optimism should consider watching the following anime.
10. D-Frag
D-Frag is about the lives of three best buddies and wannabe delinquents. Kenji is our main character who is finding different ways to make their gang famous. One day, the group of friends ends up jumping into trouble with a game development club. The club members start fighting, and the two friends are attacked, where Kenji is caught.
Now he has no choice but to join the game development club. The story continues with the boy struggling to adjust and facing the everyday challenges in the club. At first, he tries to escape the club, but eventually, the boy starts liking spending time there.
The club includes four girls with eccentric and entertaining personalities. They are the sole reason the viewers enjoy the anime; watching them together is a treat to the eyes. The anime lacks a good plot, but its characters and comedy make it a good watch.
Learning about anime making, the light novel industry, and much more is a good pick. Though directly, the anime's major focus is not on anime-making, one learns about it as the anime gives a few references to other anime.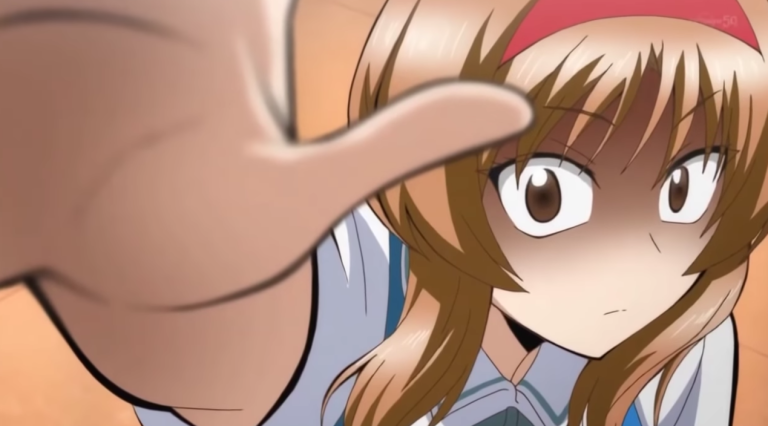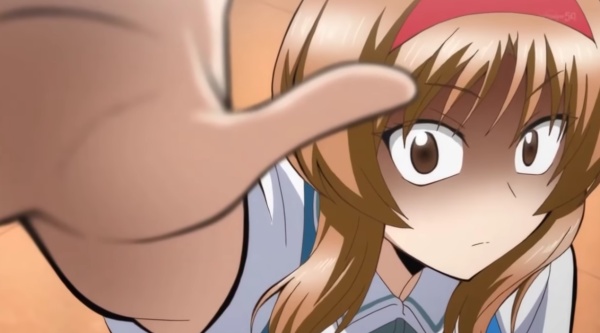 9. Accel World
In Accel World, we follow a cute, chubby boy named Haruyuki Arita, whose life is a mess, thanks to school bullies. Nothing makes him happier than video games. What's worse for a gamer? Of course, being outranked!
Kuroyukihime, the school's student council president, outranks him. Not long after, she offers the boy the chance to join her in the augmented reality game linked with Brain Burst, a program that speeds up brain waves to a point where time stops.
To accelerate, one needs points, and to get points, the user must win duels. The girl was intrigued by the program developer and wanted to learn the reason behind the creation of such a program.
Unfortunately, it's not easy to meet the developer as one must reach the highest level to meet him. As the girl couldn't do it herself, she sought the boy's help. The anime is not directly linked to game development, yet a keen observer can learn much about it. One can learn about advanced technology and its impact on people. It's an overall worth-watching anime.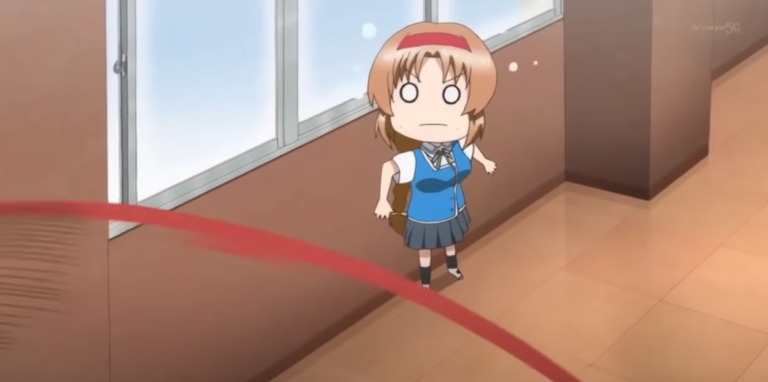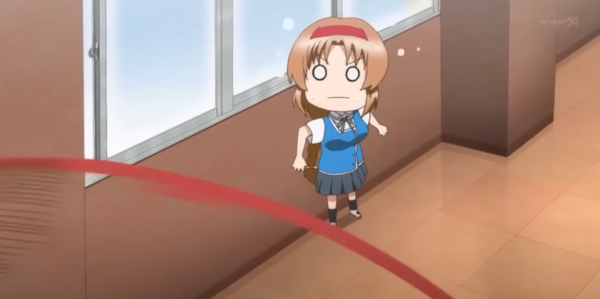 8. This Art Club Has A Problem
As the name suggests,This Art Club Has A Problem doesn't focus on the game development process, but it does focus on art. Since video games are also an art, this anime provides a similar experience while watching.
Mizuki Usami is a hard worker and a passionate person. He is a member of the Art Club. On the other hand, we have Uchimaki Subaru, whose art skills are admirable, and he invests most of his time in 2D drawing. The anime simply focuses on the lives of each artist and their everyday challenges, either in their professional or personal lives.
Any form of creativity, whether it's anime, manga, or video games, requires the same effort and faces the same challenges, though their nature may vary. I sincerely hope you will enjoy watching this anime as much as I did.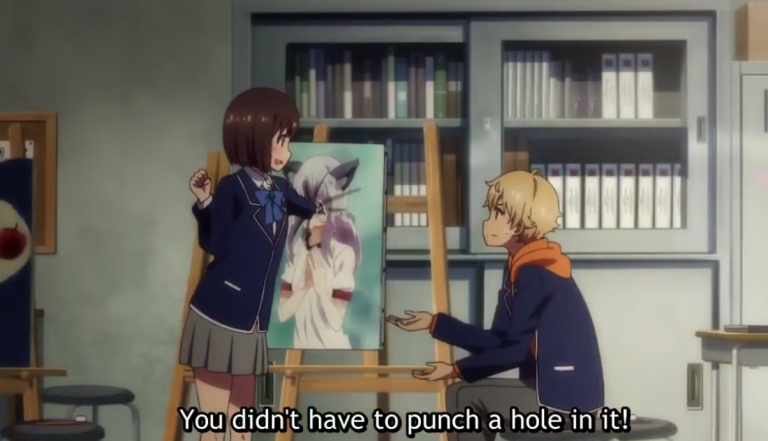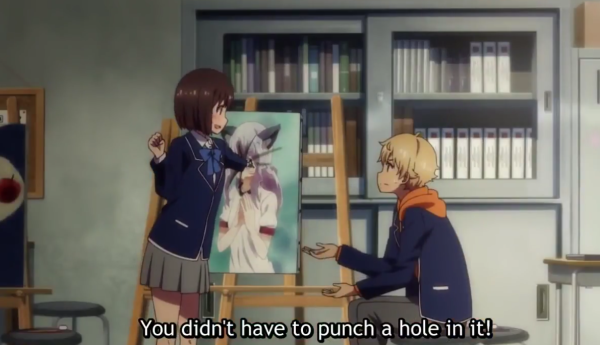 7. Arcade Gamer Fubuki
In this one, we follow the arcade gamer Fubuki and her passion for becoming the best arcade gamer in the world. For anyone, no matter how talented they are, turning their dreams into reality is never easy.
The same goes for our talented Fubuki; she faces multiple hurdles and challenges in her life. The story becomes interesting when the tournament begins, and we are introduced to numerous highly talented gamers who share the same dream as Fubuki.
Her competition with the famous gods of gaming will not be easy at all. The ups and downs in the girl's life and how she faces the odds make the plot interesting. In fact, the characters are written in an intriguing way that plays its part in making the anime engaging.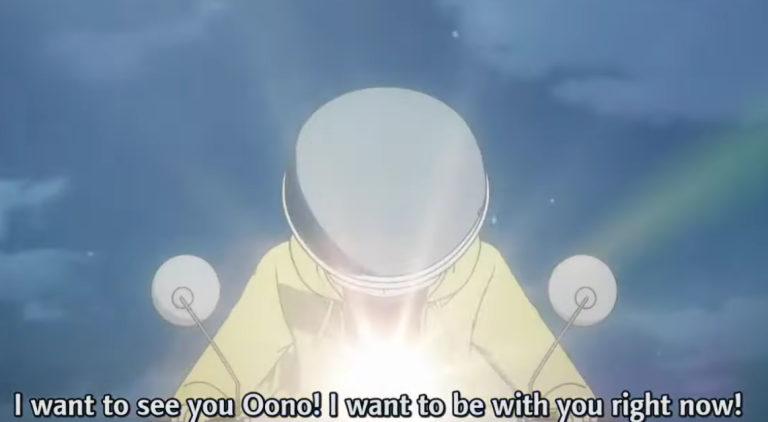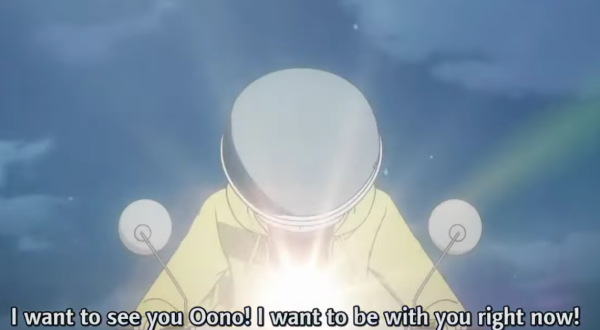 6. Gamers!
The anime introduces us to a high school gamer, Keito Amano. The boy grabs the attention of the school's idol, Karen Tendou. The girl shows her interest in recruiting the boy to the game club.
The anime highlights the lives of people who play games, in short, "Gamers". When Keito joins the club, he realizes it's quite challenging to adjust to the new environment. Keito soon finds himself entangled in a mess involving different characters.
Though the anime doesn't really provide any knowledge about game development, it's a good watch for those curious to learn about the lives of gamers. The animation is pretty basic, though the characters are really interesting.
5. High Score Girl
The anime introduces us to 1991, so get ready to get a little nostalgic. We learn about the period when people were intrigued by arcade video games. Haruo Yaguchi is a boy who is inspired by video games and wishes to become a game developer.
His interest in the field has earned him respect, confidence, and skills. Things become challenging for the boy after the entry of his classmate and rival Akira, who defeats him in a game.
Akira's character is very well written and designed, and she is one of the main characters in the anime. The anime is all about their rivalry and excelling in the field of video games. If you are a champ from the 90s, you would love to watch it, which might make you feel nostalgic. This is because in the 90s, teenagers were obsessed with video games and dreamed of becoming video game developers.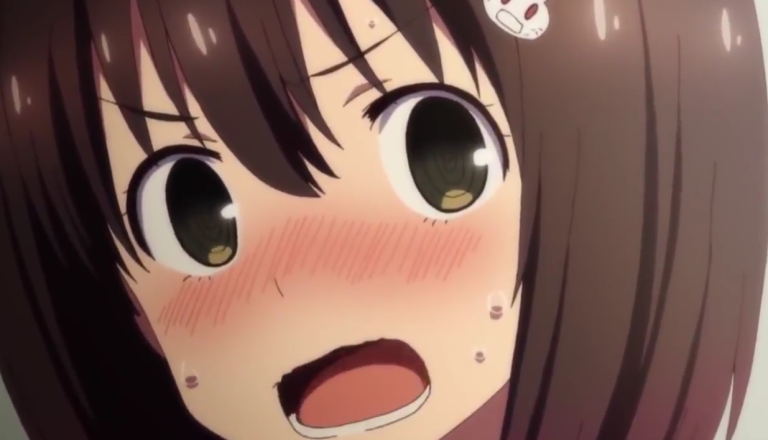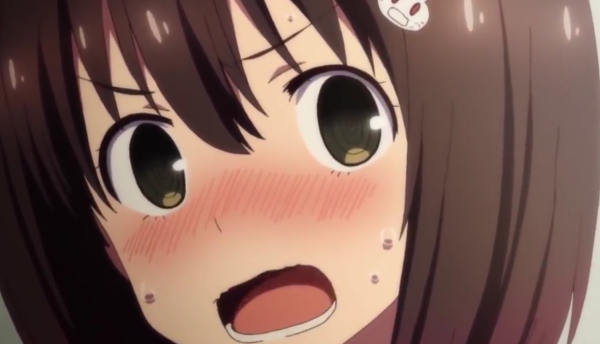 4. Shoujo Tachi Wa kouya Wo Mezasu
Shoujo Tachi Wa kouya Wo Mezasu beautifully highlights the lives of teenagers who can't find direction in their lives. There are many times when students face trouble selecting a specific field of study, and the anime simply focuses on that idea.
Buntarou Hojo is the story's main focus; he is a teenager who is unsure about the future despite being skilled in writing. His friend was familiar with his talent in writing; therefore, he advised him to join the game development group.
He and his friend decided to recruit some talented team members who would help them in the process of game development. It's all about taking a step and then trying everything out to make it work! It's a pretty good anime about game development.
3. Stella No Mahou (Magic Of Stella)
Stella No Mahou (Magic Of Stella) revolves around four high school girls who join hands to develop games. Tamaki Honda is one of the main characters whose life starts a new chapter when she enters high school. In school, she befriends girls who are extremely talented.
One of them is a great writer, the other is a fantastic programmer, the third is an illustrator, and the last one is a composer. Isn't it remarkable? The anime is a slice-of-life comedy that makes sure to refresh the audience.
Stella No Mahou (Magic Of Stella) doesn't have a complex story and offers a simple, lighthearted plot with good characters. It's basically about the lives of cute girls, their bond with each other, and how they overcome the challenges in their mission to create games.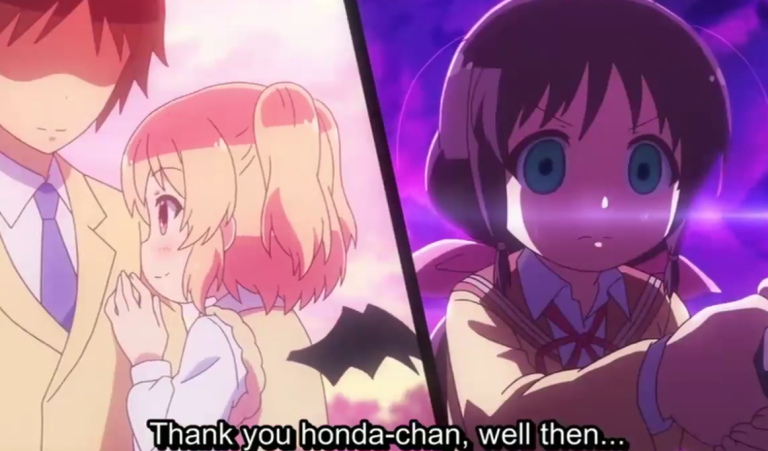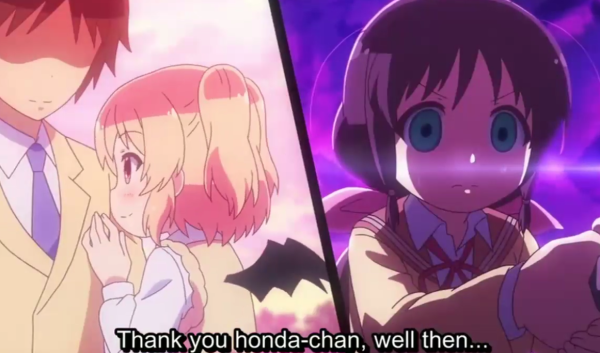 2. How To Raise A Boring Girlfriend
Tomoya's obsession with light novels and games has developed a passion in him to create his own game. He is serious about creating his own game so that he can make the audience feel the same pleasure he has felt all those times watching anime.
The boy starts by recruiting members for his team who would help him make the project successful. Finally, he recruits an illustrator and a scriptwriter. Meanwhile, he also finds a girl who will model as the main character.
Everything seemed to work, but he lacked the most basic thing. He made sure to fill the games with emotions that he never felt. If you want to watch an anime about game development, it's a good pick, as it offers a lot more than that. The viewers are entertained with comedy, romance, and much more!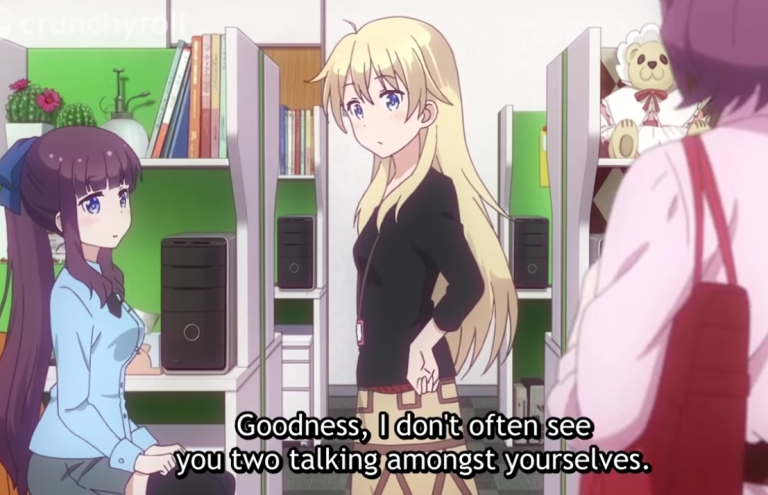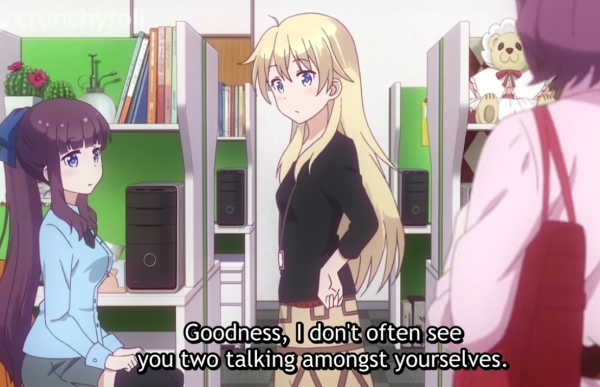 1. New Game
New Game is the story of Aoba Suzukaze, a girl obsessed with story games. One thing that attracts her the most about video game development is character design. Her favorite story game instilled a passion in her to become a character designer and work in her favorite company.
The girl was lucky enough to get a job at the desired place where she had the chance to work alongside a famous character designer. Not only that, she was given the opportunity to work on the third sequel of her favorite story game.
Despite being well acquainted with the character designs of the previous series, it is not easy for her to survive in the industry. She soon realizes that the place is filled with talented and extremely skilled people who love games.
New Game beautifully highlights the fact that in video game development, a number of specialized and skilled persons are working in their specific fields to make the project successful. If you love watching anime about video game development, this is a must-watch for you!
Conclusion on top anime about game development
Okay, my sweetest friends, there are not a good deal of good anime created about video game development as much as there are anime based on the isekai game world. The anime mentioned above is realistic, relatable, and well-received by viewers. So I hope you will get the most out of them!