Alright, we all know about the two most giant online fantasy card games, Hearthstone and Magic: The Gathering. These are obviously among the best and largest you can play on the internet. Still, I will ignore those two for the simple reason that everyone here has likely played them already or has considered playing them.
I will be focussing on excellent mobile and online card games in the fantasy genre that deserve a lot more attention and are different from the other two. I am sure you will love some on this list, and you might even hate some. These are the eight I loved playing the most, but I am more than open to hearing your experiences and suggestions. There are some already dead games on the list. This is because I hope and believe that they will be remade one day, and I wanted to share some online card game history with you guys.  
7. Hex
Oh, what could have been. I am sorry for including a discontinued game like Hex on here; it was terrific. This is probably the most complex, profound, and best fantasy card game online at the moment. Hex: Shards of Fate is an amazing TCG, where the cards even have an actual monetary value in the physical world. 
Unfortunately, Hex died because they were not profitable and never had the player numbers they needed to have enough revenue to cover debts. The developers also made blunders after blunders with player accounts, which certainly did not help the game.
6. Pokémon the online TCG
No, I am not trolling. I have played tonnes of games of Pokémon online and It is one of the most fun out there. The free-to-play is amazing, and you do not need to spend actual money due to the in-game economy and auction system.
There are thousands of cards to collect, and the strategy is really in-depth. You can always find a game online, and the solo player mode has quite a lot of content to keep you busy.
Pokémon is a great fantasy card game if you can shake off the fact that all cards look so cute and are in a completely different art style than you are used to. Pokémon might be the best free online card game in the fantasy genre judging from the total value you get.
5. Duelyst
Yep, another dead card game. This online fantasy TCG had a hard time from the beginning. However, I do think it was a bit more fun to play than Hex because you didn't have to get in so deep to get good or spend ungodly amounts of cash for the best cards. The game was pretty well-received, never getting top marks but still very respectable Metacritic scores. 
I hope this game ever gets a release, or an AI that is smart and unpredictable so you can play it as a solo player.
4. Gwent
The Witcher card game is great to play online! With the second season of the Witcher coming closer, chances are the popularity is going to explode again. The fan base is very large and it is easy to find games.
The game itself is getting more complex – which is a good thing – and the lore and story is getting more and more interesting. I do have some troubles with this game. The player versus player is great, but battling it out against an AI is just too easy and unbalanced. Not a lot of strategy is needed.
Gwent is definitely worth playing and is very fleshed out. The studio behind the online fantasy card game definitely puts a lot of money behind making this as high quality as can be and making sure all minor issues are getting tweaked.
3. Shadowverse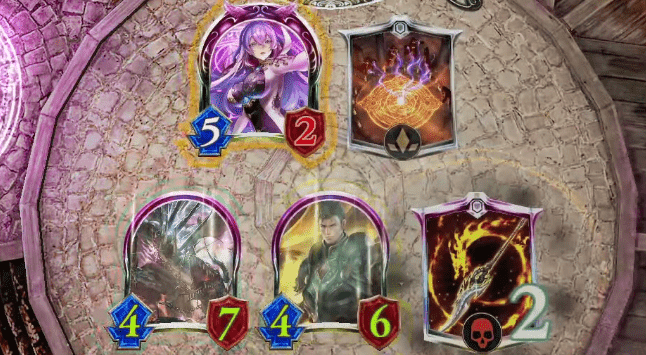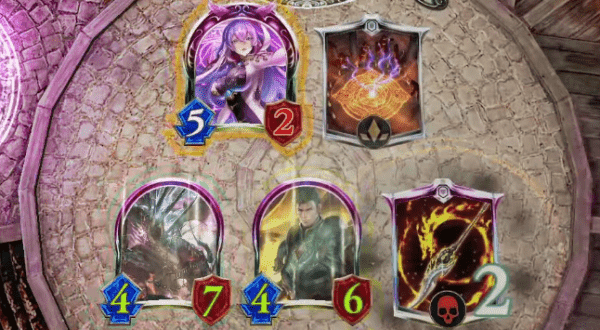 This is the most popular online Japanese fantasy card game at the moment. It has a very different art style than the MTG and DnD-inspired games you see on this list. The game could have been much higher on my personal favorites list, but the Wonderland Expansion just wasn't interesting.
It is a very good alternative to Hearthstone, the PVP is a lot faster in my experience. Shadowverse definitely shines when you just start out playing the game. However, the further you progress, the more the balance of the gameplay is lost.
2. Eternal
Another great game that will hopefully stand the test of time, is Eternal. I like the art of the cards a lot and the tactics get pretty complex when you pass the beginner stage. Another thing I enjoy is the fact that the developers have made loads of interesting Easter eggs. There are hundreds of cards you can collect, and the strategy is often pretty in depth.
What I don't like is that it feels that the number of microtransactions are increasing. This is why I am not going to put it on number one. All in all, the game feels very quick due to the instant cards that don't make you wait until your opponent is done playing.
1. Mythgard
This really is one of the best TCGs you can play online if you like fantasy. The game feels very complete and gets updated regularly. The gameplay itself is also very nice. Mythgards free to play also feels very fair and in-depth enough to give you a fair chance to play the game before you spend money on it.
The game has a great story mode that is complex and entertaining. You unlock some decent rewards while learning the basics, and you can build a nice starter deck. I also love how the cards are paid. There is a nice two-cost system that is pretty well-balanced and feels different enough from many other games.
Best online fantasy card game conclusion
There are so many different fantasy card games that have a decent enough player base to always find a game. While many of the mechanics are somewhat the same, none of these comes close to the depth of Magic The Gathering, Arena. That being said, if you are looking for an MTG arena alternative, Mythgard is just the game for you!
Have I missed a great fantasy card game that you can play online, or has a new one just come out? Let me know!