Anime where they play instruments are one of the coolest anime to watch. Those who love art, creativity, music, or instruments should watch the anime below. Below I will share the ones I enjoyed watching the most.
12. Nodame Cantabile
Shinichi Chiaki is a top musician who studies at one of the best music universities and dreams of performing with elite European musicians. Though he dreams of going to Europe, the poor boy is scared of flying, and that's why he is still in Japan.
His life becomes entertaining after his encounter with Nodame, a pianist who is notorious for her eccentricities. So, apart from music, you will see some crazy and entertaining characters and their extremely beautiful friendship with each other. Nodame Cantabile is the perfect anime that never fails to make one smile.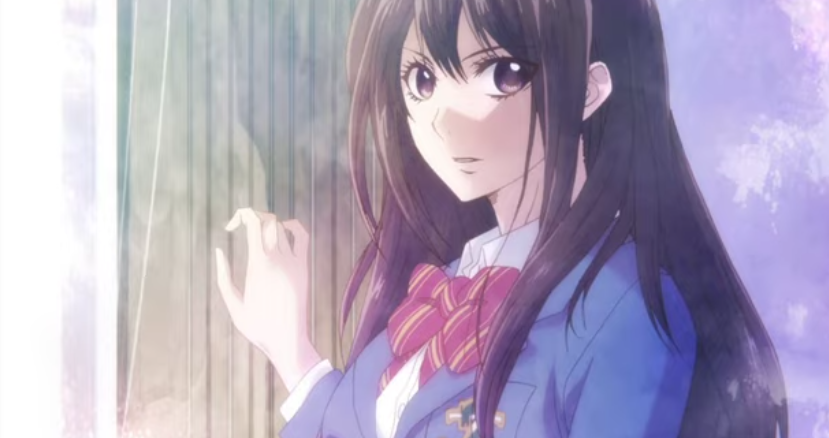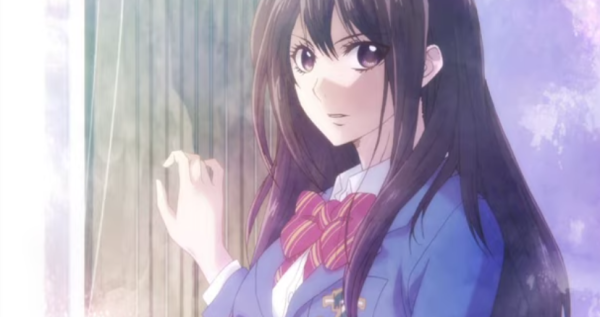 11. Stop This Sound
Chika is a naive individual on a mission to learn music because his grandpa used to think he lacked an understanding of traditional music. Thus, he tries to join the high school Koto club, but the club is unwilling to enter him as they know his attitude.
Somehow, Chika successfully makes them realize that he is passionate and determined. This marks the beginning of Chika's musical journey, where he will try to master traditional musical instruments and become the finest musician. Chika's life will have many ups and downs, and it is fun seeing how he copes with the challenges.
10. Sound! Euphonium
Kumiko Oumae is the female lead who happens to join the school's band club. She starts playing the Euphonium in the club, much to her dislike. The girl had some past, and thus, she wanted to avoid music as much as she could. 
She is afraid to make the same mistakes she made in her past, so she is cautious. The story progresses, and the band members get the opportunity to present at the nationals. Thus to win, they must work hard and turn their weaknesses into challenges.
Watching the struggles of people achieving their game is always intriguing, and if that motivates you, then don't skip watching Sound! Euphonium.
9. White Album 2
If you want to watch a romantic anime where they play instruments, watch White Album 2. I love the idea of how the creators have managed to add drama and romance to this music-themed anime.
Haruki and Takeya are the main characters who are pressured because their band members have left. To top it off, the school festival is arriving, and they need members to perform. Thus the duo recruited two members and finally performed at the festival.
After performing at the festival, Setsuna, the club's new member, confesses her love to Haruki, and the duo starts dating. White Album 2 highlights the emotions and challenges of the musicians that are a part of their daily life. Overall, it's a sweet watch!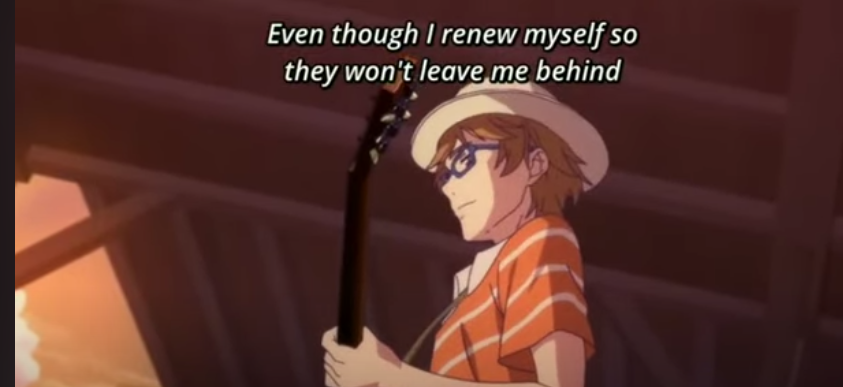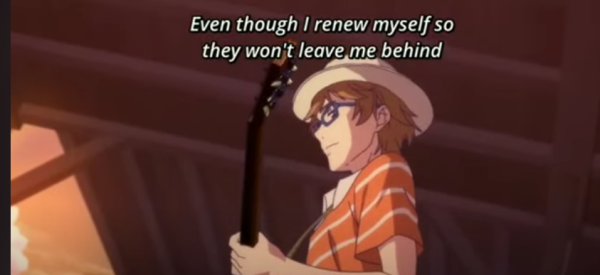 8. Fuuka
Yuu Haruna never expected what life had in store for him after he moved to Tokyo with his sisters. In the new city, his unfruitful encounter with a high schooler named Fuuka changes his life. 
Fuuka mistakes him for a pervert and leaves, slapping him. Guess what? The duo turns out to be schoolmates. With time, fate brings them closer and the two step into a world of music along with numerous others sharing the same interest.
Apart from music, and school theme, there is a romance filled with drama. The animation of Fuuka is good, and one doesn't get bored watching the show.
7. Given
Mafuyu Satou's encounter with Ritsuka was fruitful and proved to be a way of changing his life. Ritsuka was extremely good at playing the guitar, so the boy asked him to teach him to play, to which he agreed.
This leads Satou to join the band and watch the members play; meanwhile, Ritsuka is surprised to hear Satou's voice, eventually leading him to be the band's vocalist. Given is centered around Satou and the other members who try their best to cope with daily challenges side by side, working for their dreams.
Many artists get rejected by different bands due to multiple reasons. However, they don't give up, and Given also enlightened that part of the musician's life. So, enjoy watching!
6. K-On!
Yui Hirasawa is the girl we follow throughout the anime. She was confused about which club to join, so she ended up joining the music club despite not knowing how to play an instrument. The confused girl soon realizes it's not her cup of tea and decides to change the club.
Unexpectedly, the club was short on members, so the club members tried their best to make her stay in the club. The members' efforts prove fruitful, and Yui becomes passionate about learning music.
K-On! focuses on Yui's practice and efforts while introducing some engaging events to make the audience glued to the story. Not gonna lie; it's a fine watch for anyone looking for anime where they play instruments.
5. Carole And Tuesday
This is a great masterpiece for those who enjoy watching anime where they play instruments. It is set in a distant future where humanity is used to living on Mars. AI has taken over multiple tasks to ease humans. 
Music is also one of the domains ruled by AI singers. Carole and Tuesday are passionate music lovers who dream of becoming better singers than the AI. Carole is an excellent pianist who plays at night, whereas Tuesday has abandoned her rich family to pursue music.
Thanks to fate playing its part in making the girls meet, the duo decide to make every possible effort to turn their dreams into a reality. Watching the struggles of these two cool ladies will hopefully motivate you and make you passionate about music.
So, if you were solely trying to watch musical anime to find motivation, Carole And Tuesday can be a fine watch.
4. The iDOLM@STER
Becoming an idol is not easy; behind the stardom, glamor, and charm lies continuous effort, hard work, and sweat. The iDOLM@STER simply highlights the lives of 13 talented idols. A production studio called 765 Production manages these 13 idols, where they train to become the best version of themselves daily. 
The competition with the other idols and the overwork make it difficult for them to balance their professional and personal lives. Watching them on the verge of breakdown makes one realize how tough it is to achieve a goal.
It highlights the backstory of different characters and how they reached where they are. So if you like such stories, then try watching this one.
3. Bocchi The Rock
Hitori Bocchi is the female lead who is a socially awkward individual who dreams of making friends and becoming a popular musician. She is extremely fine at playing the guitar and her life changes after meeting Nikija, a drummer. 
Thanks to Nikija, she joined her band, where she met multiple talented musicians like her. Watching the band members try their best to live their best life playing music is phenomenal. The main genre of Bocchi The Rock is comedy, but it offers much more than just humor.
This enjoys fame in the otaku community, especially among those who enjoy watching musical shows. The way the anime highlights the life of a person suffering from social anxiety is splendid.
This is also the reason why many otaku were able to relate to Bocchi. Many students suffer from social anxiety but don't know what to do about it; thus, watching Bocchi overcome the odds will be a soothing experience for you guys.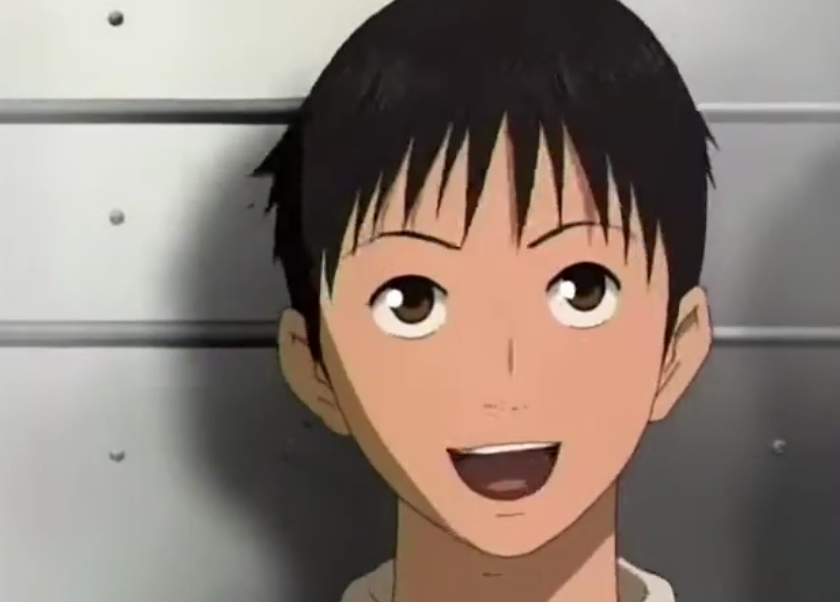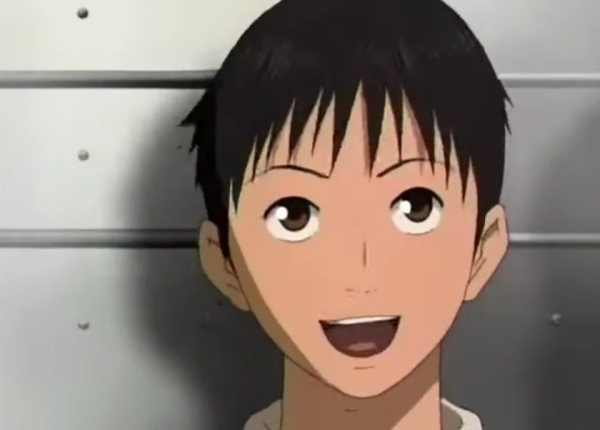 2. Beck: Mongolian Chop Squad
Koyuki is a teenager with no goals in life, but things change for him after saving the dog of a guitarist named Ray from the bullies. Ray was a member of a band, and watching him play the guitar created an interest in Koyuki to pursue music. 
Thus, he decides to help Ray become successful in his dream while learning guitar side by side. The duo and a few others like him set out on a mission to become a successful rock band. Each character is cool and entertaining, so will you dare to miss this golden chance to watch Beck?
1. Detroit Metal City
Trust me or not, Detroit Metal City is one of the best anime where they play instruments with an MAL rating of 8.11. DMC is a band that is famous for its crude style of music. Johannes Krausaer II, the band's main vocalist, is believed to be a demon from hell on a mission to rule the world.
In reality, Johannes is just an average student named Souichi who transforms into a different person on stage. Souichi is a very sweet and nice guy but has an opposite and deadly personality on stage. DMC brings a different idea; there is so much more to see apart from simply music.
Conclusion Anime Where They Play Instruments
Finally, we are done with this great list of anime where they play instruments. So my music lovers, give it all a shot and then come back later to inform me about your experiences. I'll be back!