You might have noticed it already: Fantasy Anime Movies have an excellent fan base, and the numbers are only increasing. These films are so trendy these days as they have become one of the primary entertainment mediums globally. Fantasy anime movies are an excellent dose of entertainment in just 2 hours or less. This is why they are widely applauded and have gained immense popularity.
Otaku enjoys almost all genres, but no one can say no when it comes to fantasy movies. They take us to another world of fun, excitement, thrill, and much more. There is a long list of fantasy movies, but today I will try to list the top ten fantasy anime movies. Your genie will make sure to make your time splendid.
Here are some other recommendations you will definitely enjoy:
Without any further ado, let's get started.
10. Arriety
We all have seen anime with giants, but I am sure many of us didn't watch tiny peeps. This is a story of a girl named Arriety who lives with her parents in an old woman's house. They are so small that they live their lives by stealing sugars and stuff from the old lady's Kitchen.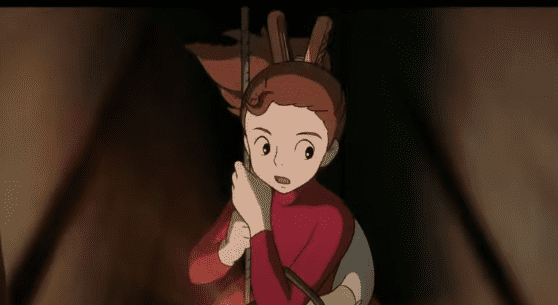 Though they are small, they still have to hide their appearance from the others. Arriety is the protagonist. Her life turns into hitches and glitches when she meets Sho. He is the grandson of the house owner. Sho caught her red-handed, taking sugar. Though he decides to help them stay in hiding, Arriety's family gets terrified and wishes to leave the place. 
The anime movie is full of cute events and experiences. Arriety is a simple yet complete fantasy anime movie that is undoubtedly not one to miss.
9. Mary And The Witch's Flowers
The story revolves around a girl named Mary, who is famous for ruining almost every task she does. The problems consider her a welcome symbol and keep her in trouble. Then, one day, she finds magical flowers on her way into the jungle.
Out of curiosity, she touches them, and then boom, her not-so mundane life flips completely. The flowers seep into her and leave a flower mark on her hands that no doubt represents powers.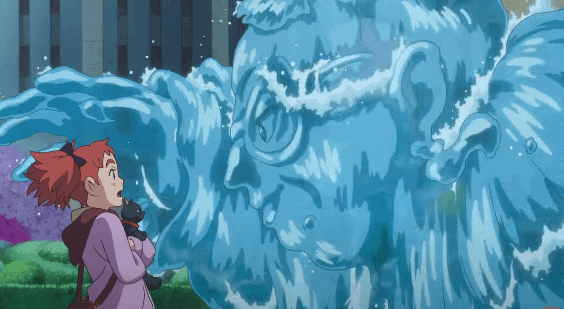 Soon after, a magic broom appears and takes her to a magical academy. There she meets the headmistress, who mistakes her for being a rare and powerful witch. The power of flowers makes her talented in an instant. She lies about the flowers to feel the applause for probably the first time in her life. 
However, as I said, she is the magnet for trouble. Her life returns to the usual trouble when the headmistress discovers the truth behind Mary's powers. It turns out that the old lady is an evil witch who wants to use the flowers for her wishes. Now how would Mary stop her? It's one of the best fantasy anime movies driven by cuteness and mystery. It would be regret for life to not try this one, no?
8. My Neighbor Totoro
This one is another masterpiece from the old days. Satsuki and Mei, the two cute sisters, shift to an old house along with their father.
After a short time, the sisters realize they are not the only ones living in the house. There are multiple magical creatures living in the place. One day Mei encounters a gigantic spirit named Totoro. From that moment onwards, a series of cute and fun events occur. 
The girls soon befriend Totoro and help each other in different ways. Their chemistry and bond with their neighbor Totoro are worth watching.
My Neighbor Totoro is a sweet and straightforward story to spend time on. However, this movie has no more significant twists or mysteries. This would be if you wanted to watch a sweet, short fantasy anime movie.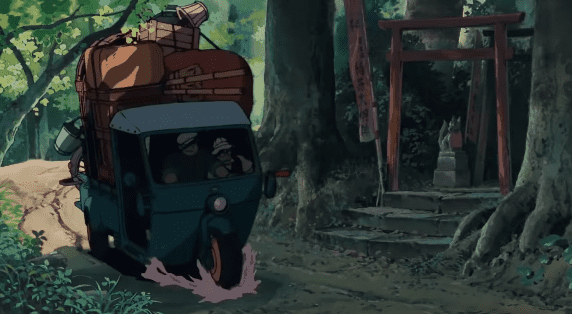 7. Kiki's Delivery Service
As the name suggests, it's the story of Kiki and her delivery service. Let me correct; this is not your ordinary story of standard delivery service. Kiki is a 13-year-old girl who is training to be a witch. She lives in a world where there is a tradition that a witch in training must live alone for about a year.
After leaving her home, she starts a delivery service, of course, a magical one. Kiki wants to be a successful businesswoman. However, success doesn't come that easily. Kiki's Delivery Service highlights the entertaining life of a 13-year-old girl and the challenges she faces in her career.
One can solve almost every problem apart from the one that takes one natural talent. The same happens with Kiki when she loses her magic. How and When is yet to be found by you. So have fun watching.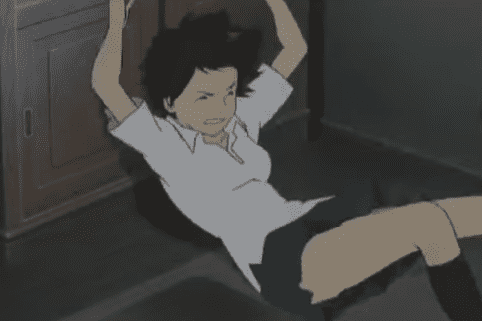 6. The Girl Who Leapt Through Time
Old is gold, but this one is a gem. If you haven't watched this one, you need to update your watch list, fellas. The love that leaps through time is undoubtedly eternal. Imagine yourself getting the power to rewind time! I am sure that would be a dream come true for many. Makoto is one luckiest girls whose life takes a sharp turn when she learns to rewind time. 
Makoto was a girl terrible at almost everything; she was below average in her studies. Until one day, in the chemistry lab, she came across an object that helped her leap through time. After learning the process, she starts doing it for fun. Little did she know that nothing comes free of cost.
Now, She desperately tries to turn back time to save the man she loves. However, she only got one chance. The movie has a perfect blend of happiness and sadness. There is love, friendship, and fun. The movie makes one feel nostalgic because of its animation and story.
5. Tales From The Earthsea
Prince Arren is the story's protagonist acting weirdly right from the beginning. The story becomes intriguing after Arren stabs his father and runs away. He kind of sets on a journey with a wizard named Sparrowhawk. He faces many challenges as he explores the world for the first time. With time he comes to regret killing his father. However, he didn't kill him intentionally, but he was out of control for reasons unknown.
During their journey, he saves a girl named There, who is about to be enslaved. A series of events occur as the trio travels together and learns about an evil witch named Lord Cob. Many secrets are revealed when Arren and the rest of his fellows encounter Lord Cob.
The movie is full of suspense and thrill. There is love and adventure. Since spoiling the story would be no fun, I left the other half of the story to be explored by you. So, are you up for it?
What would you do if you ever got a chance to resurrect your loved ones? I am sure many of you would say yes. However, it is a harsh reality that the ones who are gone can not come back to us similarly. Therefore, we have to live and move on with this reality. The next one on my list is one such story that teaches people who want to fulfill this futile wish.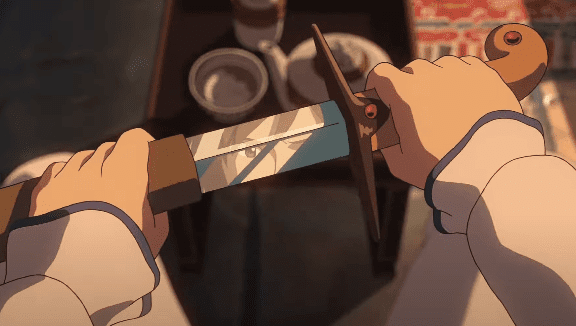 4. Children Who Chase Lost Voices
Asuna is a young girl who loves spending her time tuning into the radio on the mountain. One day, she meets a boy named Shun, who saves her from a monster. However, he reveals that he came from another world called Agartha.
They become close within no time, but our girl learns about his sudden demise one day. Now she vows to bring her love back to life and sets her journey towards Agartha along with his teacher Morisaki. Morisaki shares the same desire to resurrect his beloved wife.
Agartha is different from a typical world; other creatures and many dangers lurking around. As the duo progresses on their way, they encounter someone who resembles Shun. Let's not reveal who this boy is, so the suspense remains, and your curiosity can bring you to watch it.
This is a bonus if you like suspense and fantasy anime movies. So let's give it a shot to find whether they will succeed in resurrecting their loved ones or not.
3. Your Name
Your name is a fantasy and a masterpiece. Have you ever imagined living someone else's life? If yes, then you would love to watch this one. The story revolves around two strangers named Mitsuha and Taki. Mitsuha is a girl bored with her life and dreams of studying in Tokyo. On the other hand, Taki is a high school student in Tokyo.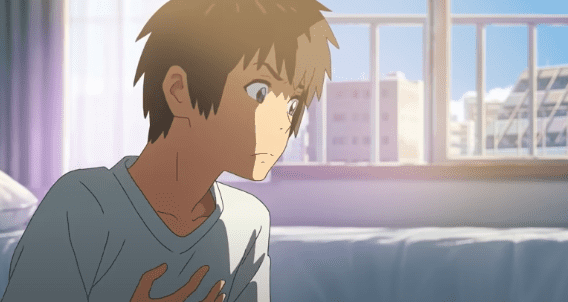 I am pretty sure you have guessed the story by now. Yes, you are right. One day, their lives take a 180-degree turn, and they both get swapped. Their souls get swapped. Taki finds himself in the body of Mitsuha, and the same goes for her. 
Well, for Mitsuha, it was a dream come true. Both of them used to communicate with each other during all the events. They managed to live each other's life for a while until they suddenly returned to their usual selves.
A comet destroys the city, and Taki finds that Mistsuha died in the incident. Then twists begin when he realizes that a gap of three years has come in between their timelines. Sounds thrilling, right? Your Name is a fantastic love story full of emotions followed by suspense and fantasy, and much more. So grab your popcorn and have fun watching!
2. Howl's Moving Castle
One of the best fantasy anime movies that sparked the popularity of anime and their movies. A magical adventure with witches, unique creatures, and a handsome hero is a deadly combination.
If you like attractive characters, then I am sure this reason would be enough to make you fall in love. Howl's Moving Castle is the story of Sophie, a simple girl and a wizard…correction, a handsome, charming, and talented wizard named Howl. 
Everyone is afraid of Howl, famous for stealing women's hearts. (see, I told ya, XD) Sophie works at her hat shop, and a witch lands in her place one day. An argument occurs between them, and she turns Sophie into an old lady. To hide her secret from her family and peers, Sophie ends up at Howl's moving castle to find the cure. The shy girl tries to hide away in embarrassment because Howl sees her as an old lady. Cute no?
A series of events take place, and Howl discovers Sophie's secret. As the story progresses, they get close and face many trials together. It's a fun-packed movie that instills waves of laughter and mixed emotions into viewers. So if you don't want to have regrets for a lifetime, I suggest you get down to your screens and start with it.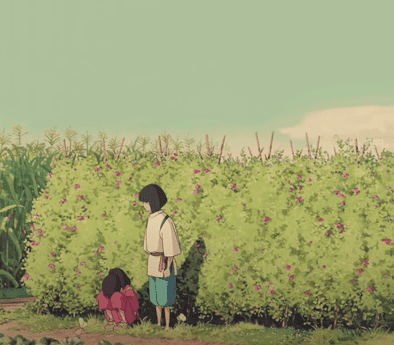 1. Spirited Away
This amazing fantasy anime movie will keep you spellbound with its exceptional plot and hair-raising events. Even though it is an old movie still, it has been ruling over the anime community for years. It follows the story of Chihiro, who lands in a haunted park with her parents.
Chihiro warns her parents not to enter the amusement park as it gives spooky vibes. But unfortunately, the parents don't listen to her and enter the park. The problems begin when they eat cursed food that turns them into pigs.
This 10-year-old, seeing her parents turned into pigs, gets scared and runs. However, as the sun sets, the spirits start appearing. A mysterious and kind-hearted boy named Haku suddenly appears to help the damsel in distress. He tells her to get a job at Yubaba, the witch's place; only then would she be able to survive in this place. 
The twists unfold, and Chihiro's life gets full of daily challenges and troubles. However, being the protagonist, she manages to win anyway. I assure you of lasting enjoyment and thrill from this roller coaster ride of emotions.
The best fantasy anime movies: Conclusion and final thoughts
Okay, my lovelies, with this, we conclude our list of best fantasy movies with magic and witches. Starting from handsome wizards, powerful witches to be, evil witches, love, time travel, and an entangling plot, these movies have it all.
I hope you enjoyed reading the list of top ten fantasy anime movies. Some of them might give your tear ducts an exercise, and some would let you experience the sweetness of love. All of them are a blend of emotions and worth your time. I would love to know if you have watched any of the above-listed ones and which one is your favorite. 
| Movie Title | Summary |
| --- | --- |
| Arriety | Arriety, a tiny girl, lives with her family in an old woman's house and their lives change when she meets Sho, the grandson of the house owner. Cute events and experiences follow. |
| Mary And The Witch's Flowers | Mary discovers magical flowers that give her powers and takes her to a magical academy. She must confront an evil witch who wants to use the flowers for her own wishes. |
| My Neighbor Totoro | Satsuki and Mei, two sisters, befriend a giant spirit named Totoro and experience cute and fun events together. |
| Kiki's Delivery Service | Kiki, a young witch, starts a delivery service but faces challenges when she loses her magic. |
| The Girl Who Leapt Through Time | Makoto gains the ability to rewind time and uses it for fun until she tries to save the man she loves. The movie combines happiness, sadness, love, friendship, and fun. |
| Tales From The Earthsea | Prince Arren sets on a journey with a wizard named Sparrowhawk and encounters an evil witch named Lord Cob. The movie is full of suspense, love, and adventure. |
| Children Who Chase Lost Voices | Asuna meets a boy from another world called Agartha and embarks on a journey to bring her love back to life. The movie is suspenseful and filled with fantasy elements. |
| Your Name | Mitsuha and Taki swap bodies and communicate with each other until a comet destroys the city. They discover a gap of three years in their timelines, leading to a thrilling story. |
| Howl's Moving Castle | Sophie, turned into an old lady by a witch, seeks a cure at Howl's moving castle and becomes involved in a series of events with Howl. It is a fun-packed movie with mixed emotions. |
| Spirited Away | Chihiro's parents are turned into pigs in a haunted amusement park, and she must work for a witch to save them. The movie is filled with challenges, twists, and emotional moments. |
Fantasy anime movie recommendations
I will see you again with something more fun and interesting. Until then, Asta la vista, baby!!!