A perfect comedy with a blend of romance, some delinquents, trickery, and unexpected instances is hard to come by. D-Frag is not a new one, yet it fits the description perfectly. The anime debuted on the screens in 2014. They made the anime fandom laugh with the unusual incidents and unparalleled comedic interventions. Today we are having a look at the top 10 Anime like D-Frag!
D-Frag is the story of Kenji Kazama, apparently, a delinquent, who himself had to compel four forceful and unprecedented girls and join their gaming club. The art and sound might not be top-notch for some, but the anime is worth the time if you are looking for laughing therapy. Below are some superb recommendations with much of a likeliness to D-Frag for my otaku fellas. So, shall we start?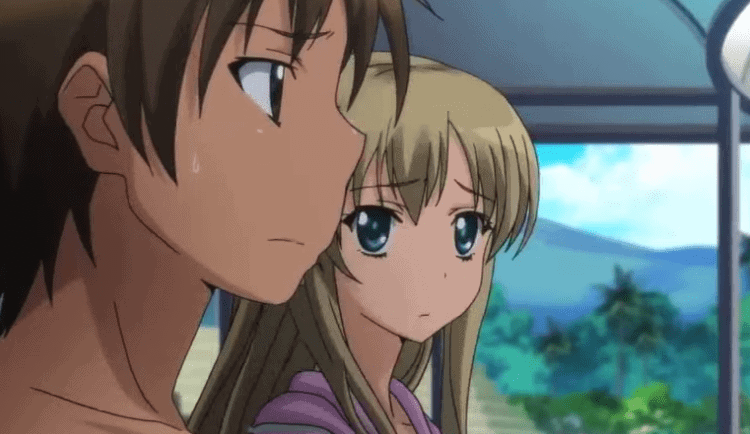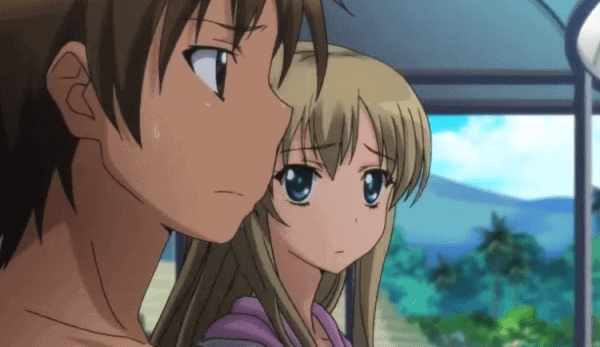 10. Haganai: I don't have many friends
With similar elements like a club of weirdos, a small harem, and unusual comedy, Haganai is another version of D-Frag. The only difference is that, unlike D-Frag, Haganai is closely related to real-life events. The plot follows a harmless high school boy named Kodaka. The poor soul is eagerly waiting for his transfer because, finally, he will get to change his image of a delinquent.
However, thanks to his naturally blonde hair, he is perceived as one, making him a friendless guy. Yet this time, something happens, and he ends up in a unique "neighbors club" with some utterly weird and uncanny peeps similar to him. This marks the beginning of his life filled with extreme laughter, unexpected hilarious and awkward scenarios, and much more. The anime is highly recommended for my otaku fellows, who are kind of introverts.
You will be learning some social skills that are undoubtedly handy. The anime has a fan service element that wasn't in D-Frag on a large scale. Additionally, the animation might not be like the ones we are mentioning here too. However, the character development throughout the plot made the anime intriguing and on par with many other hits. On many occasions, you will resonate with the characters in many aspects and end up saying, "yeah, that happened with me as well ." So, try it for a unique experience and a fun Anime similar to D-Frag.
9. When Supernatural Battles Became Commonplace
Haganai didn't have the fantasy element like D-frag, but the next one on the list didn't miss that one. Including harem, fantasy, and out-of-the-blue hilarious situations, When Supernatural Battles Became Commonplace anime is your pick this time. It brings an oddly simple daily school life of Andou and his four female club members on the stage, followed by supernatural powers.
Usually, if you are bestowed powers, indeed there is a considerable plan the universe has for you. But that is an old story. This is a new version where these five students one day find themselves with unique and extraordinary powers. But, their life begins and ends in their literature club as usual.
Though this one adds mystery, which makes this anime a must-watch, it still keeps the laughter increasing at every turn. So, if you are looking for anime like D-Frag, try watching When Supernatural Battles Became Commonplace for a fun time. Besides, you can binge-watch it on the weekend because 12 episodes that make you laugh uncontrollably with mystery and action doesn't sound like a bad deal. What do you say?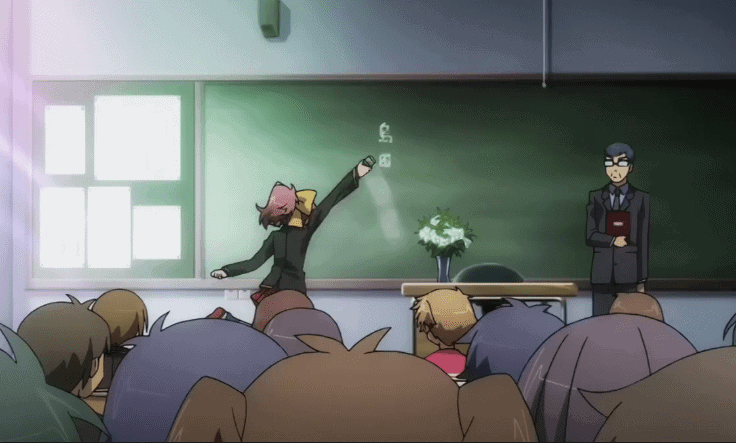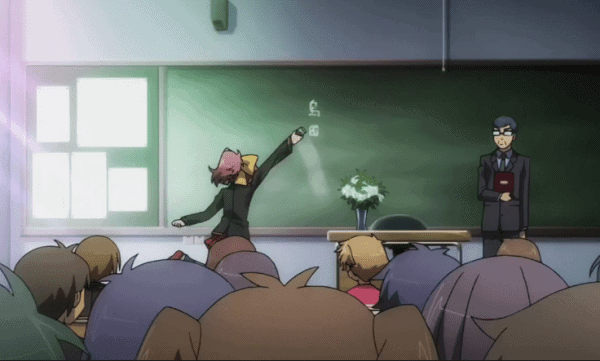 8. Baka and Test-Summon, the Beasts
What did D-Frag not have that Baka and Test- Summon the Beasts to have? For starters, the fantasy element in this one allowed the otaku to see an all-out war between the genius and talented students vs. the losers of a prestigious academy. It is something that every otaku wants to know because it is the charm of an anime. 
Baka and Test- Summon the Beasts is D-Frag one way or another. The animation, loaded with cuteness, adorable characters, a little flirting, and tons of side-splitting instances, will leave you in awe. The story kicks off with Yoshii Akihisa. He is always confident and a person with great intellect. Their current academy classifies the students as per their abilities and places them in classes according to them. 
Sounds simple, but unfortunately, our hero finds himself in the lowest class of losers even with his intellectual ability. He is accompanied by his childhood friend and another unfortunate genius. Yet our hero decides to prove himself, and it may be easy. Everyone in the academy can summon beasts depending on their power and challenge anyone. This might be a chance for our hero to shine; however, his class seems to have seen a leader in him. With unwanted and dedicated followers, his life is about to become a blend of love, some fights, and a pool of comedy.
7. Love, Chunibyo & Other Delusions!
Everyone, especially otaku, imagines themselves in countless situations that are nothing but fantasy. Thinking they are unique, some even try to act that way unintentionally. The next one on my list names such a situation as Chunibyo, a disease. Funny as it is, it is real, my friends. Yuuta Togashi, our protagonist, has suffered from this uncanny disease after humiliating himself. However, people do not believe him, so he has decided to keep quiet. This anime is very similar to D-Frag in a ton of goofy ways.
But recommending Anime like D-Frag wouldn't be okay if it was this simple. His life changes when a confident girl with Chunibyo enters his life, and she owns it like a queen. This particular anime has a unique concept that is hard to come by. The comedic touch followed by fantasy and some oddballs as the leads is very similar to D-Frag. 
The voice actors did a fantastic job. I must say, along with the forever developing characters in such a short time, the anime is a sure hit. It received much love because the characters made it real with their experiences. It is a once-in-a-lifetime experience though many of you might not find it to your taste because of the slow pace of anime.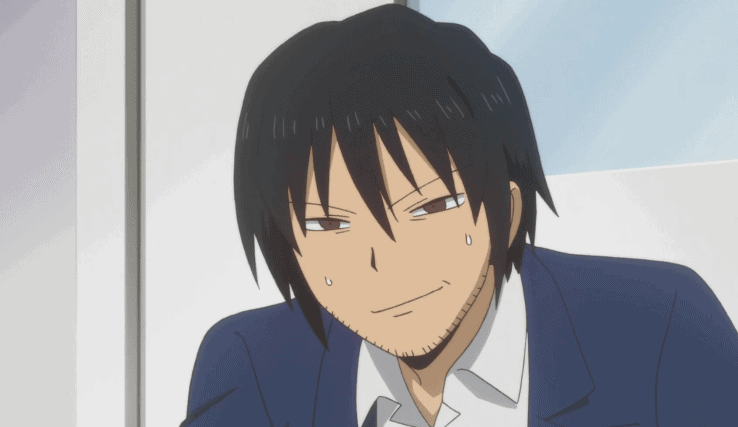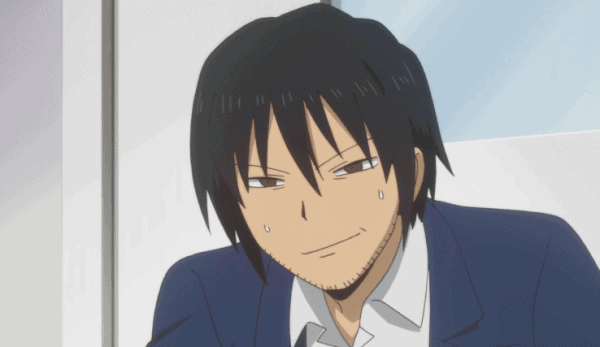 6. Daily Lives of High School boys
A blast of comedy akin to D-Frag, or bigger than the one, was never expected. However, Daily Lives of High School Boys dropped on our screens to fulfill the hunger of the comedy craving otaku. You will laugh till your lungs burst; indeed, you might cry as well, but the chances of having fits of laughter unexpectedly are a lot. 
The name of the anime portrays the setting perfectly. Three high school boys, Hidenori, Yoshitake, and Tadakuni, live fun lives surrounded by love, heartbreak, competition, drama, and giant ROBOTS. Yeah, I couldn't miss this one. You will find the lives of this trio relatable, with a few expected and unexpected occurrences.
The animation is smooth but often lacks the charm that otaku follow. However, given the perfect balance of laughter and love with some gigantic robots, otaku like us can compromise as long as the fun is guaranteed. Everything else is top-notch, especially the characters' energy that bursts out with their voice and animation. Briefly, this anime is highly recommended for a similar experience to D-Frag, especially for teenage boys.
5. School Rumble
Okay, so this one is a personal favorite, and sadly it is an underrated anime. Many of you might not like it from the get-go, but gradually you will be entangled in the story of two opposites. School Rumble is one of the best rom-com with characters and occurrences highly relatable to the daily life of a high school kid.
The anime is over the top with comedy and love troubles following Tenma, an energetic high school girl fantasizing about romance. Her target is none other than the school's delinquent, Kenji Harima. However, little does she know that Kenji is also suffering from a crush and is struggling to confess his feelings! It may look romantic and heartbreaking; it is, though! But it is excessively funny; you'll know once you watch it. 
The story of this Anime similar to D-Frag follows the lives of these teenagers struggling in their love only to know that love isn't easy as they say. Jealousy, laughter, heartbreaks, confessions, and romance, plus a delinquent boy with a headstrong girl, School Rumble is much more than D-Frag. It is one of the first anime I ever watched, and without being biased, this one made me follow anime like a madman. You must try it if you are looking for comedy in high school with many pleasing bonuses.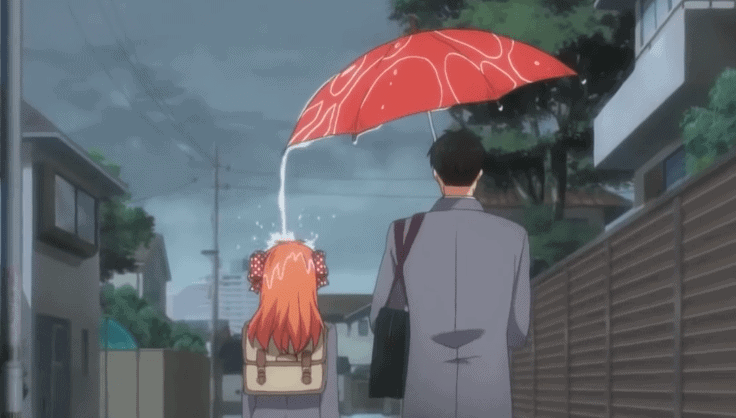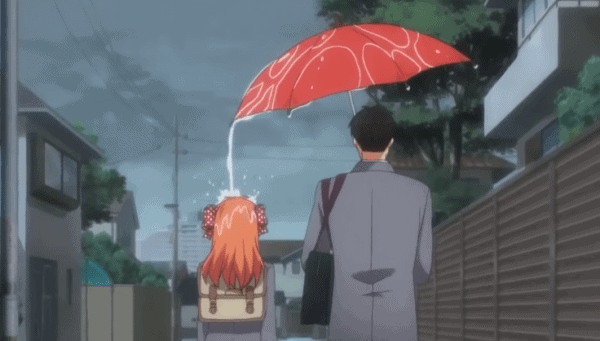 4. Gekkan Shoujo Nozaki-Kun
How often does it happen to you that your genuine love confession is mistaken as a job request? Never, right? I know we got bad luck, but it can't be that bad (XD). Yet it isn't the case for our protagonist this time. Chiyo Sakura is the damsel who went straight into distress herself. She is a sparkling high school girl with unmatched curtness and beauty. 
Her life was going smooth like any other girl's until she confessed her feelings to the sturdy, calm, and mature Nozaki-Kun, who was oblivious to everything except his work. After the hilarious and unprecedented event of her love confession becoming a part-time job, she discovers the sides of Nozaki no one ever thought existed. However, the sturdy Nozaki, secretly a mangaka, didn't know that Chiyo was confessing and not seeking a job. Messed up, right? 
Well, it is nothing, the story has only begun with a comedic occurrence, and it leads to many others where you will cry your lungs out and scream at Nozaki for being an oblivious saint. He may not be a delinquent, but his demeanor is exactly like one, similar to Kenji from D-Frag. The anime has perfect animation and a plot. However, compared to the manga, the anime seems a little slow paced. But all in all, it is an entertaining watch, and missing it would be a gruesome mistake.
3. Sabagebu! Survival Game Club
This one is a chic Anime like D-Frag with attractive animation, adorable characters, impressive soundtracks, and an engaging plot. Sabagebu is somewhat like D-Frag, except that instead of Kenji, we have Momoko. She is always called "the new girl" because she transfers frequently. 
Momoko cannot make friends because of her father's continuous transfers. What she didn't know is that this time around, things will change for the better…at least for us, they will. She is coerced into joining a strange club filled with outgoing yet eccentric girls. Using guns and pistols, they are out to wipe out evil with many frolics.
Sabagebu is a rare piece. At first, you may feel like it is like any other anime with girls using weapons and violence. But that is not all. Only after a few minutes will you be bewitched by the senseless violence, girls in action, and the surprises. So give it a go; you will be baffled utterly.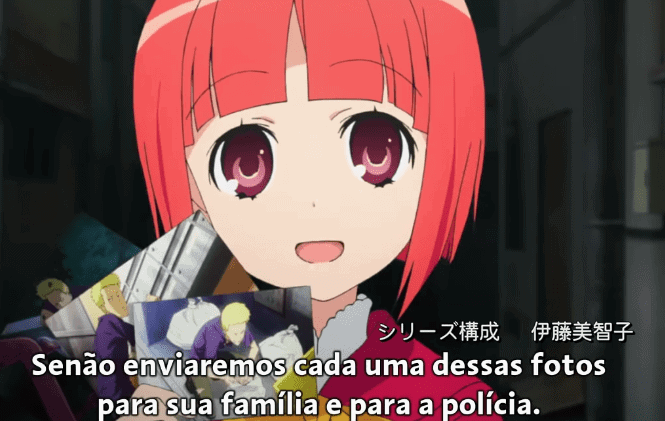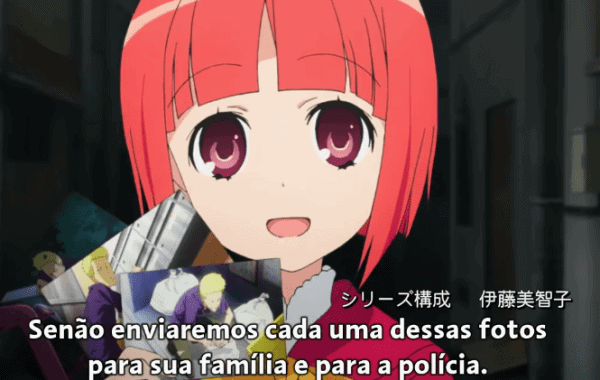 2. Okami-San and Her Seven Companions
Kenji from D-Frag might have been a delinquent, but he was subdued by four girls, more like the devil in disguises. Okami-san is somewhat similar to D-Frag in terms of its comedy, the uncanny characters, and one boy surrounded by some weird girls; that is not a harem.
The ever-so-innocent Morino Ryoushi finds himself stuck between the eccentric, energetic, introverted, proud, secretive, and bold girls of Otogi Bank Club. The girls will do whatever it takes to solve your troubles, be they love or life-threatening ones, as long as you promise to repay them.
Morino tries his best to escape from the unprecedented lot. Still, after witnessing many awkward situations, he finds himself working alongside them. You will be forced to laugh limitlessly, but it will be for once. The story was originally a light novel, but the Anime like D-Frag wasn't up to the mark. Still, for laughing therapy, it isn't bad for one-time fun.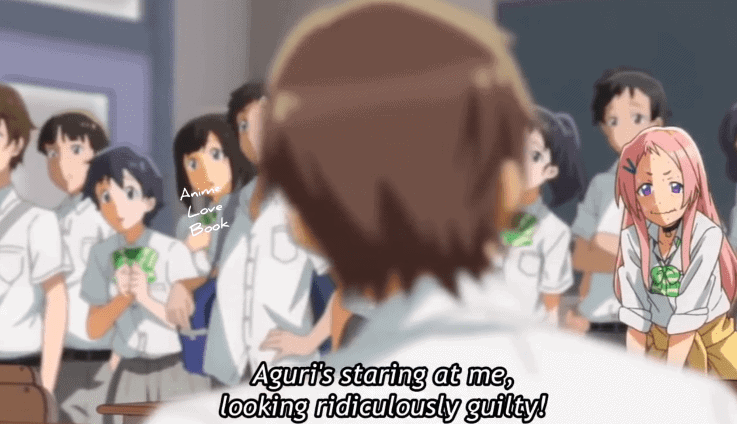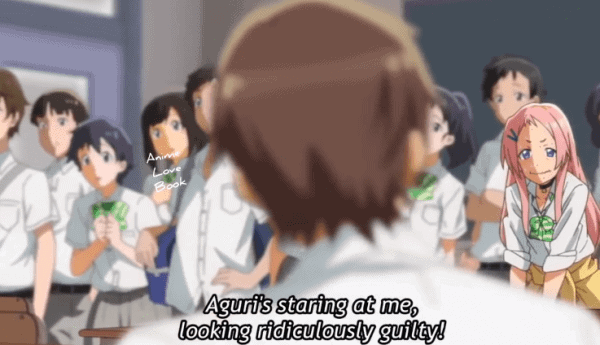 1. Gamers
This one is especially for my gamer otaku fellas. You will be perplexed while watching this one; mark my words. It relates so well with high school gaming addicts and their lives. Since I have played some games myself, I can tell you it will blow your socks off. 
The anime brings to light a typical gamer named Keita Amano. He is an aloof guy living in oblivion to his world, yet everything changes around him one day. The model student Karen Tendou has her eyes on Keita and his talent for games. With one sentence, "will you join me in the gamers club?" she drags Keita into a world of gamers, pretty girls, and romance…if you think that's how it is, sorry, dude.
This one stands true for everyone except for Keita. What happens with our Keita is unexpected, and surely romance is far off the table. I won't spoil you with what he has gotten himself into. Still, the rib-tickling humor, a sneak peek into a gamer's life, and exciting occurrences will spellbind you. Try this one if you are looking for fun similar to or even better than D-Frag.
Conclusion and final thoughts on Anime like D-Frag
With Gamers, let's close the topic for today so that you can go ahead and watch one of the recommended anime and laugh your heart out. Every entry will give you a D-Frag-like feeling, and you will undoubtedly enjoy the fits of laughter.
I'll wait for your remarks on the list above. So, don't make me wait long, my fellas. Until next time!